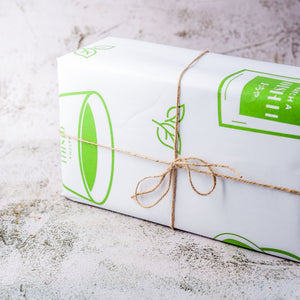 Let us spread matcha love to your loved ones by helping you wrap your Matcha Gift with our Matcha Oishii gift wrap.
Our Matcha Oishii gift wrap is 100% compostable, printed with eco-friendly ink, and made to bring lots of matcha love to you and those with whom you are sending the gift.
This matcha gift is perfect for special occasions such as birthdays, anniversaries, graduations, or the holidays!
We can also add a personalized handwritten message on your behalf for your matcha gift if you let us know what you would like to write on the note. 
*The matcha gift wrapping includes wrapping paper and twine around it