Highest Quality of Organic Matcha & Japanese Tea
Premium, First-Harvest
Straight from our small family farm in Uji, Japan to your cup
Get the mental clarity and revitalize with every sip
Experience Japanese tea at its finest
Health Benefits of Our Matcha
Our matcha is rich in L-Theanine, a powerful aminoacid which gives you long lasting energy without jitters.
Enhances your mood, promotes focus and a sense of calm.
Promotes immune support due to our very high level of antioxidants and chlorophyll, protects your cells from oxidation, preventing aging and skin damage.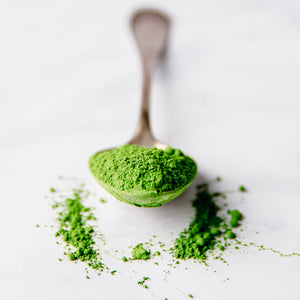 WHICH MATCHA IS RIGHT FOR YOU?
Ideal for Drinking
Our award winning Matcha. Highest Quality of Organic Ceremonial Matcha in Japan (we mean it).
Delicate flavor, natural sweetness in aftertaste. Best to drink pure with water as tea, or latte. This Matcha is simply amazing!
shop ceremonial matcha
Ideal for Mixing
Organic Premium Matcha. A true gift for any matcha lover and your best ally in the kitchen!
Fully-bodied flavor with a light hint of sweetness. Intended for cooking and baking. Great for mixing in your culinary matcha creations! 
shop matcha
Why matcha oishii?
Because YOU Deserve The Best
Award-Winning tea which has been served at the Imperial house in Japan
First-Harvest only
Small batches from 6 generation family farm in Uji, Japan
Organic 100% pure green tea, no sugars, preservatives or any other ingredients
Make your own Japanese tea ceremony at home
Breathe in the scent, the tang, the clarity of pure matcha.
Matcha Tea Ceremony Set
Have your own very personal tea experience!
Our Matcha Tea Ceremony Set contains everything you need to whisk the tastiest Matcha, just like in the traditional Japanese tea ceremony.
SHOP TEA CEREMONY SET